Well Living House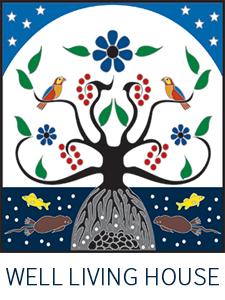 Fundraising Goal $50,000.00
Total Number of Gifts: 6
Total Value of Gifts: $2,205.00
Please bookmark this page.
Recent Donors
Bethan Stewart
Mr. Kyle Hodgson
Dr. Aisha K. Lofters
Naomi Adelson
John MacIntyre
Dr. Pier Bryden

Full Donor List
Research as Reconciliation Fundraising Campaign
Research shows that historic and ongoing policy injustices have resulted in alarming health disparities amongst Aboriginal people. These tragic and potentially preventable health impacts are rooted in the impacts of multi-generational trauma and systemic racism. In order to continue moving toward a stronger and healthier future, a call for reconciliation has been put forward to all peoples, which the Truth and Reconciliation Commission of Canada defines as the "ongoing process of establishing and maintaining respectful relationships." We are at a pivotal point in history, and the Well Living House campaign marks an opportunity to answer this call by meaningfully contributing to the process of reconciliation.

On November 19, 2015, Well Living House launched the first ever Research as Reconciliation fundraising campaign. We hope to raise $50,000 to support the launch of the St. Michael's Hospital Indigenous Health and Wellbeing Resource Lodge. This lodge will have both a physical presence (at St. Michael's Hospital) and virtual web presence. It will be a place where Indigenous community members and allies can come to access Indigenous Health Knowledge and Practice Resources (IHKP).

The Well Living House fundraising campaign marks an opportunity for all to play a key role in starting a new dialogue and in bringing this collective vision to life. Your support for the Indigenous Health and Wellbeing Resource Lodge is an important form of restitution and reconciliation addressing the historic and current policies that have undermined Indigenous systems of health knowledge and practice and their intergenerational transmission. Come partner with our community in the revitalization and sharing of Indigenous Health Knowledge and Practice Resources.

---
If you think this page contains objectionable content, please inform the system administrator.