Creative Works Studio (CWS)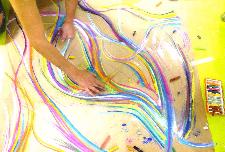 Total Number of Gifts: 33
Total Value of Gifts: $3,588.00
Please bookmark this page.
Recent Donors
Susan Anderson
Mr. Michael Stokely
Myra Cridland
-
Lesley Grant
Tamara Haberman
David Walsh
Ken Balderson
In memoriam George McLean
Ian Graham

Full Donor List
CWS is a program with St. Michael's Inner City Health Program - donate here!
Founded in 1998, the Studio is an arts based occupational therapy and community initiative of the Inner City Health Program of St. Michael's Hospital and operates in partnership with Good Shepherd Non-Profit Homes Inc. The Studio offers healing and recovery through the arts for those living with severe and persistent mental health and addictions challenges.

Open throughout the week, the Studio receives clients from mental health agencies across the city and helps them make a comfortable return to an active and meaningful life in the larger community. The Studio provides a non-judgmental environment where each person is treated as an artist first, rather than a patient, and is encouraged to reach their highest skill level and potential through purposeful and inspiring creative art initiatives. As a result, their general life skills and ability to cope in the larger community also improve.

The Studio is actively involved in mental health research and in community and educational outreach as a means of disseminating information and reducing the stigma of mental illness.
---
If you think this page contains objectionable content, please inform the system administrator.