In Memory of Thomas Wilson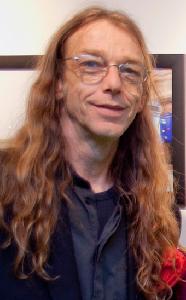 Total Number of Gifts: 7
Total Value of Gifts: $550.00
Please bookmark this page.
Recent Donors
Mrs. Joan Rusling
Mrs. Doris Wilson
Don Wilson
Ms. leslee wilson
Thomas Wilson
Lori Whelan
Mr. Warren Parrott

Full Donor List
Thomas Wilson was a beloved member of Creative Works Studio for five years. A prolific artist, he produced many paintings and drawings most of which are stunning representations of the human figure. He participated in countless CWS art shows, as well as the Touched by Fire show. He was also known as the rock star of the Studio - with his incredible guitar skills, and love of Betty Goodwin and Patti Smith.

Of his many contributions to Creative Works Studio, Thomas created two murals for the outside of the Studio, one of which he completed last fall and remains there now. He also shared his story in our 2013 documentary, What's Art Got To Do With It?. Beyond his creative contributions, there was always just a sense that we could count on Thomas. He was eager to help with any little or large tasks around the Studio, whether he was helping to set up for an art show, or fixing something that had broken. In between tasks, he'd sneak in a laugh with his wry sense of humour.

The CWS community will remember Thomas for his artistic skill and inspiring art work, but even more for his large heart and incredibly reliable nature.


To donate in memory of Thomas, you may:
· Click the 'Donate Now' button to give online
· Call 416-864-5000
· Mail a cheque payable to "St. Michael's Foundation" with a note in the memo stating, "In Memory of Thomas Wilson (Creative Works Studio)" - see mailing address below

---
If you think this page contains objectionable content, please inform the system administrator.