In memory of Karen Louise Hill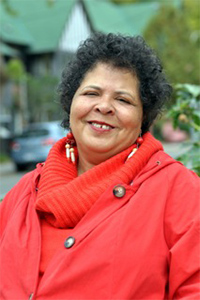 Total Number of Gifts: 13
Total Value of Gifts: $975.00
Please bookmark this page.
Recent Donors
Louise Dix
L & D Bogert-O'Brien
Robinson
Linda Nwaulu
Karen Hill
Lynn Burgess & Dean Blain
Graham Dudley and Agnès van 't Bosch
Eric and Willow Aagaard
Ms. Lynne Jeffrey
Anonymous

Full Donor List
Karen Louise Hill was born January 27, 1958 in Newmarket and died on March 27, 2014 in Toronto. Karen, who lived for more than 20 years in the Bain Co-op in Toronto, had been released on March 21 after a two-week stay at Sunnybrook Hospital. She was celebrating her return to health by eating a meal in a restaurant. Karen choked on some food that became lodged in her throat and could not breathe. She lost consciousness and slipped into a coma from which she never emerged. Surrounded by her family and friends, Karen died five days later in St. Michael's Hospital in Toronto. The Hill family wishes to thank the nurses and doctors in the Intensive Care Unit at St. Michael's Hospital, who showed compassion in caring for Karen and kindness in welcoming and comforting her relatives.

Karen lived for thirty years with bipolar disorder, which periodically led to short-term hospitalizations but from which she always emerged, determined to carry on with her life. Karen graduated from Victoria Park Secondary School in Toronto in 1976. During her high school years, she showed a keen interest in learning other languages and studied French intensively in Trois-Pistoles, Québec. After obtaining a B.A. from the University of Ottawa in 1979, Karen travelled to Europe where she remained for a decade. Karen worked for several years as a secretary for the Max Planck Institute in West Berlin, where she obtained a certificate in teaching English as a foreign language. When she returned to Toronto, Karen worked for the City of Toronto and also administered the teaching of English as a Second Language for the Toronto District School Board.

One of Karen's greatest joys was being the mother of Malaika Hill, 24, with whom Karen remained in daily contact even when Malaika was completing a Bachelor's Degree out of town at the University of Waterloo.

Karen lived with love, joy and grace and pursued many interests, namely: writing, painting, gardening, listening to jazz and blues, reading and travelling. In addition to English, Karen spoke French and German fluently and acquitted herself playfully in Spanish, Italian and Portuguese. Karen was a joyous chef (her salads, cheesecakes, pumpkin pies and linzer torte were unsurpassed at parties and family gatherings). She was always gregarious and loved meeting her many loving friends and relatives.

One of Karen's most enduring passions was writing poetry and fiction. She contributed the poem "What Is My Culture?" to the literary anthology Other Tongues: Mixed Race Women Speak Out (Inanna Publications, 2010) and the poem "A Breath of You" to a curated exhibit in the Ontario Archives about the life of her late father, Daniel G. Hill (ore/online/dan_hill/children.aspx). In 2013, after working with a literary mentor at the Humber School for Writers, Karen completed an autobiographical novel entitled Café Babanussa, dramatizing and fictionalizing her life in West Berlin, where she lived from 1980 to 1988. The novel is with a literary agent and is still in search of publisher.

Karen had many loving and faithful friends. She adored her late father Daniel G. Hill, who died in 2003 in the same room at St. Michael's Hospital.

She was loved and will be remembered by all surviving relatives: daughter Malaika Hill, mother Donna Hill, brothers Dan Hill (and his wife Beverly) and Lawrence Hill (and his wife Miranda) and by her nephews and nieces David, Geneviève, Caroline and Andrew Hill and Evangeline and Beatrice Freedman and by relatives in the Hampton, Flateau, Cochran, Martin and Madison families in the United States.
Donations
The family encourages people to make donations to the community-based arts studio (where Karen loved to paint) for people living with mental illnesses or addictions on this website or by calling St. Michael's Foundation at 416.864.5000.
"Gone Tomorrow", a poem by Karen Hill
Your sated lips
Pressed up
Against my skin
The muted beat
Of my Unbroken heart
My fingers trace
The path
Of your breath
Its fugitive imprint
Will surely be
Gone tomorrow.
---
If you think this page contains objectionable content, please inform the system administrator.